Slim's place is casual bar and restaurant in Anna Maria City.  It is a locals hang out for just about every night of the week.  Located just off Gulf Drive it is easy to get to and a convenient walk from many Anna Maria city vacation rentals.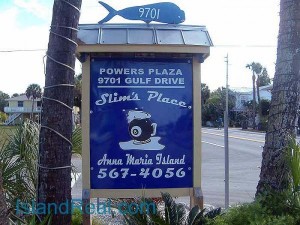 Slim's Place for Burgers and more!
Slims place serves plenty of COLD drink choices and serves a variety of menu items. The pub has plenty of televisions to watch your favorite sporting event or world cup soccer game. Enjoy a huge copper top bar for an impromptu cold beverage of your favorite choice.  There is limited outdoor seating at picnic tables.  Slim's has a great atmosphere that throws off a strong local vibe of positive "stuff."  It's not uncommon to go into Slim's alone and walk out with several new found friends from sitting at the bar talking about the latest in Anna Maria City or just sharing good conversation with a friendly face.
Slim's place has several choices of dinners like hamburger, fish and salad.  They have a home made hummus that is fabulous. When the soup of the day is black bean you must try it. Of course the menu does change but at last check the philly sandwich with all the fixings was one of the favorites.
If you are looking for some local flair then stop in at Slims place in Anna Maria City.    They serve lunches and dinners and accept Visa and Mastercard.  Be sure to check out their local specials, you won't be sorry you visited Slim's Place.
Slim's Place Bar and Restaurant
9701 Gulf Drive
Anna Maria City, Anna Maria Island
Florida, 34216
(941) 567-4056