Why Choose An Anna Maria Rental Beachfront House or Condo From Island Real Estate
Our beachfront Anna Maria rentals are second to none, each offering unmatched views of the Gulf waters and all the comforts of home.
You can leave the alarm clock at home – just open the windows at night and you'll wake up to the calming sea breeze and the sounds of waves crashing in the distance. At night, unwind on your private balcony and watch the sunset over the pristine beaches of Anna Maria Island. There are a number of choices when selecting from Island Real's collection from resort rentals to beachfront rentals with private pools you are sure to find the perfect spot for your next Florida vacation. Whether you are coming with your family and looking for a beach rental for large groups, or you're getting away with someone special for a 2-person getaway, we have different-sized rentals to accommodate all!
And when it comes to activities and amenities, although Anna Maria Island has a small quaint feel there are still plenty of options nearby when it comes to restaurants or shopping.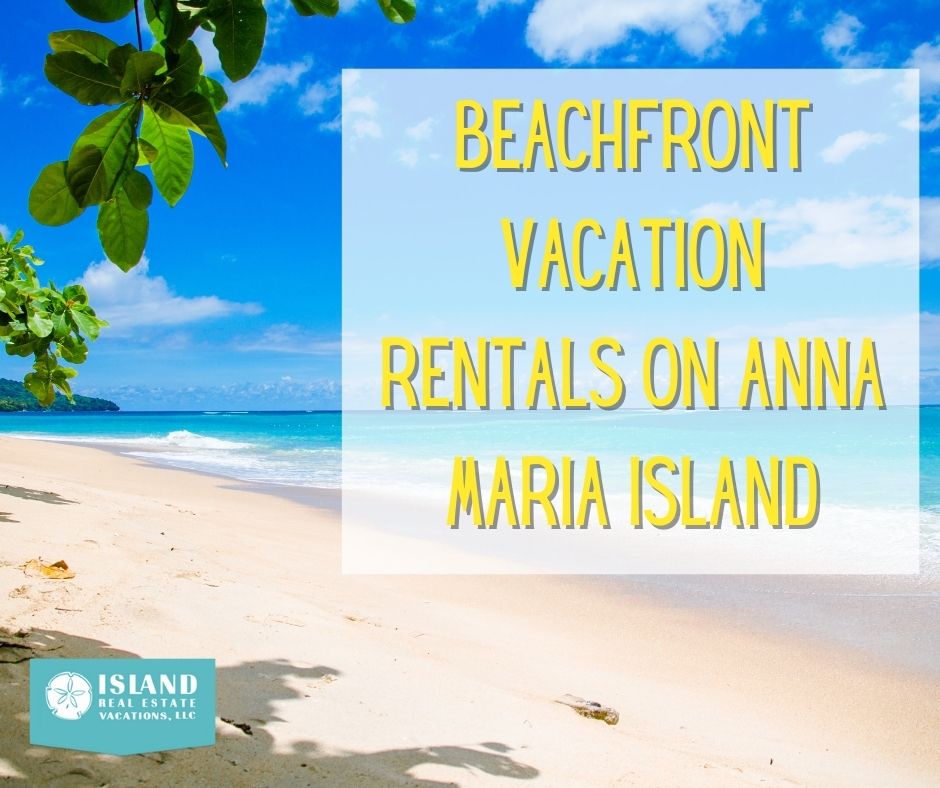 Some of the amenities you can expect to find include:
Full kitchens
Internet access
Ocean views
Private balcony
In-unit laundry
Be sure to read the property's description for an accurate list of amenities.
If you have any questions about booking an Anna Maria rental on the beach - please feel free to call the office at
877-778-6066
to speak with one of our friendly and knowledgeable booking experts, or click "chat" in the lower right-hand corner!
About the Beaches on Anna Maria Island
There are several types of beaches on Anna Maria Island. There are Gulf Front Beaches as well as Tampa Bay Beaches. Anna Maria Island juts into Tampa Bay and there are about 2 miles of Beach located at the North East Section of Anna Maria Island. The Island is 7 miles long and the entire Gulf side of Anna Maria Island has sugary white sand beaches. No matter which Anna Maria Island beach rental you choose you are sure to enjoy a beautiful stretch of beach around you.
Bradenton Beach City has considerably more public parking at Coquina Beach and the beach contains more shells than other beaches. However, there are lots of beach shops and restaurants to walk to from the beach or your Bradenton beach rental.
Holmes Beach City allows for beach access at most streets that dead-end into the beach. There are considerably fewer shops and restaurants to walk to however the beach is less populated normally.
Finally, Anna Maria City which offers the most Northern Beaches on Anna Maria Island has the most limited parking and most beachgoers are residents and vacation renters. Bean Point rentals are popular for easy access to Anna Maria City beaches. There are also a few shops and restaurants to walk to from the beach.
Many people wonder, "Do Anna Maria Island beaches have a lot of seaweed?" There is usually not a great deal of seaweed on Anna Maria Island beaches. Seaweed can be more prevalent after a storm or a series of storms but most of the time seaweed is on the beaches of Anna Maria Island in very small amounts, less than 5% of the beach.
Does Anna Maria Island have Beachfront Restaurants?
Yes! Anna Maria Island restaurants offer Bay Front dining as well as Gulf Front dining with plenty of tasty options from Italian to Caribbean to seafood. Take the free trolley or walk to your choice of several restaurants from your Anna Maria Island Vacation Rental. There are easily 20 restaurants on Anna Maria Island and a handful that have Bay or Gulf Front views. There are also a few restaurants where you can put your feet in the sugary white sand as you dine on some delectable eats.
Are Anna Maria Island Beaches Nice to Walk?
Yes, since the island is 7 miles long you could walk the beach 7 miles if you wish. The entire length of the beach on the Gulf side is public. Along the way, there are spots you can hit some shops, grab a drink and take a rest on a bench. Be sure to put plenty of sunscreen on and be sure to plan your stops if you don't bring water to hydrate. Morning walks are the best on Anna Maria Island!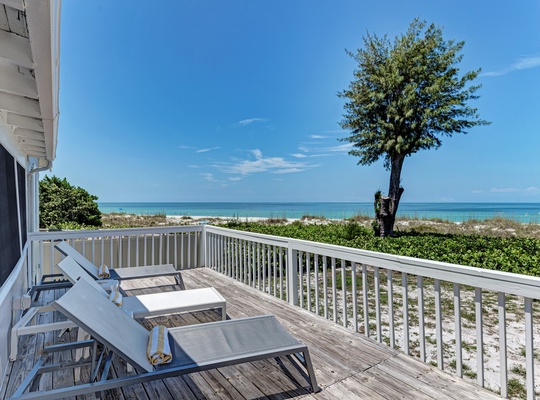 Can I Drive or Bicycle on Anna Maria Island Beaches?
Unfortunately, no to both. Police do travel the beaches with all-terrain vehicles as well as the County occasionally uses large tractors to remove seaweed however mechanized vehicles belonging to the public are not allowed on Anna Maria Island beaches. Bicycles as well are not allowed on the beaches. There are however lots of places to bicycle around Anna Maria Island! while you are staying in one of our vacation rentals.
Here's What Our Clients Have To Say On Google!
"Love Anna Maria Island the most friendly and pretty place for a vacation. Island real estate was helpful to find the perfect beach condo for mine and my husbands 8 day stay. The manatee were seen and the dolphins flipped in the ocean waves and the breeze and fabulous dinners on the beach. Breath taking views."
Trina D.