Benefits of a Pool for a Beach Vacation Rental
We've heard the arguments, "The beach is gorgeous - why do we need a pool?" - but a dip after a walk on the beach, or lazing by the pool with an ice-cold drink is a great way to spend an afternoon relaxing. You can also wake up and take a morning swim, or spend the afternoon hanging out poolside with the whole family - and keep the kids entertained without being away from the house and on the beach all day long. It's also nice to take a quick dip to cool off without going to the beach. The best part about having an Anna Maria Island beach rental with a private pool is you can use it however you want!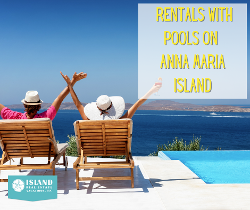 How Big are Vacation Rental Swimming Pools?
Most swimming pools on the island are 30' in length and 15' wide. Most deep ends of Anna Maria Island swimming pools are 5' deep. If you have specific questions about the size of a pool or an amenity at one of our Anna Maria Island Vacation Rentals please call or use the "request information" form at the bottom of our vacation rental detail page. We are here 24/7 to help you find the perfect oceanfront vacation rental with a pool!
Do Most Pools Have a Spa or Hot Tub?
Hot tubs are rare on Anna Maria Island, but some of the pools do have a spa. It is best to review each property for pool heat as well as a spa if that is an important amenity for your Anna Maria Island stay. All our vacation properties list amenities including but not limited to pool and spa as well as pool heat.
What is the Difference Between a Hot Tub and a Spa?
This is a question our vacation specialist get all the time. There are many difference between a hot tub and a spa. A hot tub is normally a stand-alone water feature that heats more rapidly than a spa. In addition, hot tubs have significantly stronger water jets than spas however all strength of water jets can vary. Hot tubs do not normally have a filtering process for the water in the tub. A spa usually integrates into the swimming pool which is a much larger body of water and sends water through a filtering process. Most spas take 2+ hours to heat while a hot tub can be less than 20 minutes. Spas do not normally employ an insulation top due to their size being twice as large as a hot tub.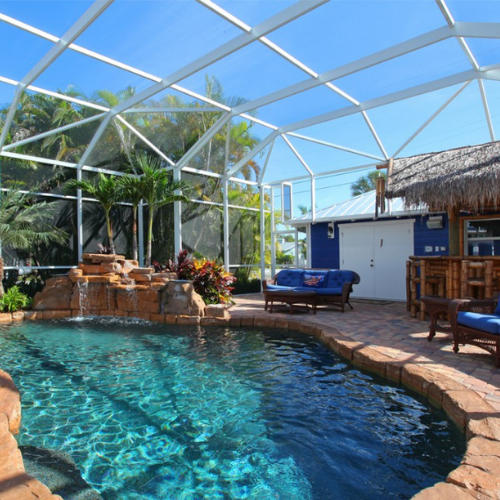 Are the Pools Heated and to What Temperature?
Many swimming pools are heated with electric heat, but check every listing's description to be sure. Typically as the temperature dips below 80F for longer than 5 days Island Real Estate Vacations starts pool heaters. This is normally in late Fall for Anna Maria Island. Pool heaters are set to 80 F and based on ambient temperatures may not maintain 80F all day long. In severe conditions which are below 50 F pool heaters automatically turn off for safety reasons and do not operate. Normally after a cold evening Anna Maria Island pools can dip into the low 70's and take 4-6 hours to heat to the set point. If visiting during the late Fall or Winter and heated water is critical then we strongly suggest renting a home equipped with a spa.
What Our Clients Have To Say On Google!
My entire family absolutely loved the condo we rented on the beach from Island Real Estate! Our accommodations were fabulous! The place was newer - maybe only 5-8 years old, clean and well cared for, and very much like home, just like they promised! Our patio faced the ocean over the fenced pool area with a gate leading out to the beach. I would DEFINITELY rent this place again, and loved working with Island Real Estate - such friendly people! You won't be sorry.
Susan C.