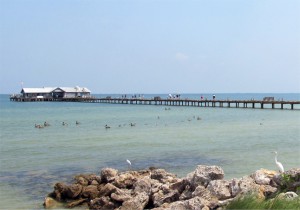 The city Pier Anna Maria is a great site to see when visiting Anna Maria Island, Florida.  (Sorry, because of the 2017 Irma Hurricane, the City pier is temporarily closed.  However, there is still plenty to do in the area and all the below information is accurate) Grabbing an ice cream at Two Scoops and walking the pier is a must!  Another great past time, swing over to Two Sides of Nature and do some shopping. Stop in at the Waterfront. restaurant, across the street, for a great bite to eat.
At the end of the pier you can grab dinner and lunch, or pick up some hand made jewelry.  If you like fishing then stop in to gab with the fishermen on the pier and see what is biting.
City Pier Anna Maria is a historical site
The sign at the entrance of the City Pier Anna Maria says it all.  "The Anna Maria Development Company built this pier and wharf in 1911-1912 to provide dockage for ships from St. Petersburg and Tampa.  It has since withstood hurricanes and lesser storms too numerous to mention.  Although parts were damaged in storms in 1918, 1935, 1974, 1988, 2017 it has each time been restored to its approximate  original form.  Unfortunately the pier as of 2017 is closed for major repairs.  The City of Anna Maria as well as Manatee County are initiating plans to repair the pier and brint it back to all it's glory.  The Anna Maria City pier is 678 feet long so it is no small task to repair it's infastructure.  The wharf extends another 58 feet into Tampa bay. Over the years it has nurtured the hopes of fisherman and the dreams of lovers. Provided roosts for pelicans and other sea birds, and has also been a friend to residents and visitors alike.
Over the center of the tin roof, from the third shore bench to the south of this marker, on clear nights can be seen the North star. Guardian of the mariners since the first sailor looked up for guidance of the night sea.
When the pier opens again, hopefully soon… walk the planks. Beneath the Roof of this City Pier is the Place to sit with Shrimp and Beer. While Lightening in the distance plays and thunder rumbles across the bays. "Summer Storm"…CMV "
Anna Maria Beach Real Estate
There are plenty of gorgeous Anna Maria beach cottages available through Island Real Estate! Check out the selection of homes, and be sure to seek real estate advice from one of our full time sales professionals.