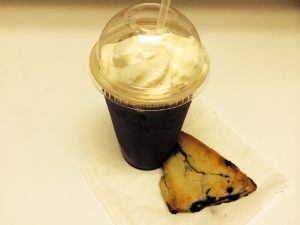 Holmes Beach – I have found it!!!!  Found what you ask?  Only the BEST iced mocha on Anna Maria Island!
Let me take you back to the beginning… well not that far back!  My coffee addiction began slowly about three years.  A cappuccino here or a quick cup of coffee from the Keurig at my parent's house, but now I cannot go a day without my java fix.  I'm not ashamed to admit that I even indulge multiple times throughout the day now!  One of my favorites has now become the iced mocha especially this time of year when hot coffee just won't work.
Well enough about me let me tell you about the amazing Island Coffee Haus on Holmes Beach.  To be honest I hadn't even gone in until recently because I thought it would be super expensive and I have become a bit of a Starbucks snob L  I decided today was the day to step outside my comfort zone!
As I walked in the first thing I noticed was how light and bright the shop is which is very different from Starbucks.  Personally I love bright colors and do not need dim lighting and muted décor to enjoy my caffeine.  It's also very beachy, but cozy at the same time.
Right as you walk in the pastry case calls to your taste buds, and then the rich aroma of the coffee tickles your nose.   I was now drooling, and I only had one foot in the door!  Next I hear a very cheery "Hello… what can we get started for you?"  This really warmed my heart because that is exactly what they say when you walk in to any local Starbucks.  I hadn't even looked at their menu, but let me just say they had me at hello.
If you know anything about me you know I do not make changes easily, and I do not like to go to new places because it makes me uncomfortable.  I am an efficient person, so when I walk in somewhere I have a plan and know exactly what I'm getting so I don't look stupid.  I am so glad they had their menu spelled out on a large chalkboard hanging right above the counter to make it easy for me to see quickly what I wanted.  I zeroed right in on my favorite…the iced mocha.  Oh but then they gave me a choice of dark OR white chocolate, and I didn't hesitate for a second and chose dark.  It just seems to complement espresso so well.  Now I waited to see if they would be making it using a mix or fresh ingredients.  To my pleasure the entire drink was from scratch!  They even make their owner whipped cream which of course I had to have on top.
Now they are making my drink, so I take the time to look at their pastries because I was on my lunch break after all, and I needed to eat something.  I saw bagels, scones, large cinnamon rolls and muffins.  Most of these are made in house, but she did admit they purchase the bagels and scones.  They are fresh though from that morning.  I decided on a blueberry scone, and let me just tell you I couldn't tell it wasn't homemade.  They also have light meals including salads, breakfast sandwiches and regular sandwiches like their cranberry chicken salad… I will definitely try that next! You can get fresh fruit yogurt parfaits or oatmeal if you are looking for something on the lighter side.
Not a coffee drinker, like I used to be? Well then you are in luck because they have things for you as well.  They have made to order smoothies as well as different teas and bottled drinks.
When you all come to Anna Maria Island make sure you take time to check out Island Coffee Haus located in the plaza with Hurricane Hanks.  Even if you only have a few minutes I promise you will not be disappointed.  Make sure to let me know what you all think as well!
5350 Gulf Drive, Holmes Beach
(941)896-4870
Monday through Saturday 7:00 am – 3:00 pm
Sunday 7:00 am – 1:00 pm.