If you're looking for great pizza on Anna Maria Island, then this is the post for you. Keep reading to learn more about the Island pizza places:
Best Pizza On Anna Maria Island
Solos: If you're craving pizza, but everyone else you're with is not, Solos is the place you need to stop by. Located on Holmes Beach, Solos is a conveniently located and economical place to get not only pizza, but also burgers, subs, wings, and salads. Of course we suggest the pizza because of the various amounts of toppings you can get! Make sure to stop by!
3244 E Bay Drive, Holmes Beach, FL 34217
(941) 778-8118
Oma's: Oma's is the perfect place to get a pizza from if it's late at night (open till 12AM). Their pizza is always fresh and delicious and it'll have you eating way after you should have called it quits. So definitely stop by and enjoy Oma's friendly environment, and their yummy pizza and calzones.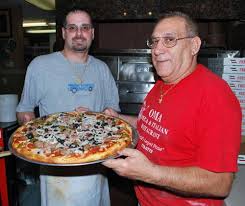 201 Gulf Dr N, Bradenton Beach, FL 34217
941-778-0771
The Feast Restaurant: The Feast is one of my top restaurants in general on the island. They have amazing food in good sized portions (plan for leftovers), though their pizza is absolutely fantastic. Trust me, once you just look at the pizza you will be impressed. It is the perfect balance of sauces, cheeses, and toppings. Compliments to the chef!
5406 Marina Dr, Holmes Beach, FL 34217
(941) 778-5092
Pizza Social: The Pizza Social on Pine Ave is the newest (as of 2020) pizza place on Anna Maria Island. They specialize in handcrafted pizzas and fresh salads; the prefect combo! While they have an array of specialty pizzas and salads on their menu, you can also opt to Build Your Own pizza or salad as well.
308 Pine Ave, Anna Maria, FL 34216
(941) 251-4070
Island Grill: Island Grill is one of the best restaurants on AMI and is great for everyone, because not only do they have a great selection of pizza, but also tons of other amazing dishes on the menu. All the pizzas are thin crust, handmade, and delicious.
5910 Marina Dr, Holmes Beach, FL 34217
(941) 778-0333