A fFeast is a relaxing place to have lunch or dinner.  The Moveable Feast moved to Holmes Beach on
Anna Maria Island, Florida many years ago from Longboat Key and changed their name to just the Feast.  The restaurant offers dining in, pick up and delivery.  Delivery must be at least $15 at the time of this blog so check with the restaurant to be sure they deliver.  The Feast has plenty of staff to be sure you are serviced well and the restaurant can support about twenty tables.  The restaurant serves Beer and Wine.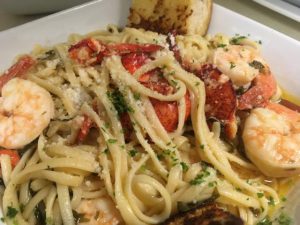 The Feast offers a ton of variety.  Plain pizza's or gourmet pizzas.  Pasta, Sandwiches, salads and hearty entrees.  Our party started off with the Firecracker shrimp which were very good and a healthy serving which was plenty for four.  The Greek Salad was very good and could have added Chicken,Shrimp, Scallops, Tuna or Snapper for $5.  The Caribbean Red Snapper sandwich was a big portion with two sides.  They have plenty of sides to choose from.  The Vegetables were good but the mashed sweet potatoes were to die for and seemed more like a dessert than a side.  Lastly we tried the full rack of barbecue ribs which fell right off the bone.  Pretty saucy but cooked to perfection.
The restaurant offers a few desserts like key lime pie and a brownie.  If your party is looking for a good amount of variety ranging from a sandwich to gourmet meal then The Feast is probably a good bet.  The Feast is in a central location in Holmes Beach.   Please note the pictures in this blog represent food provided by the Moveable Feast.
The Feast
5406 Marina Drive
Holmes Beach, FL, 34217
Anna Maria Island
(941) 778-5092
The Feast makes most local top ten restaurants.  Another local favorite sit down restaurant is the Waterfront in Anna Maria City.