What?  You heard it right, free transportation on Anna Maria Island.  Maybe you are planning a night out on the town taking in some libations and you want someone else to do the heavy lifting?  Perhaps you want to enjoy the sights of Anna Maria Island without worrying about traffic, pedestrians in cross walks, you name it.  After all you are on vacation!  Locals refer to the service as the Monkey Bus.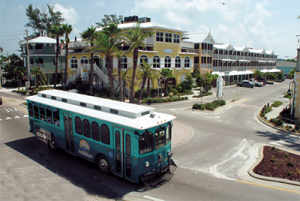 The crown jewel of Anna Maria Island is our free Trolley service that travels the entire island.  The trolley definitely has limited hours it shuttles patrons around Anna Maria Island so be sure if you are hitting some local night spots that you plan appropriately to get home or prepared to call a taxi.  The Anna Maria Island trolley does accept donations.
Another free transportation is what Anna Maria Island locals refer to as the "Monkey bus."  It is really not free as they accept tips but a great way to get around the island if you have time to spare.  They operate fairly late but at the time of our post their hours are noon to 3 AM.  They can seat any number of passengers from their 8 passenger golf cart to their mini bus.  They make travel fun and can be reached at 941 565-6542.  They can handle special occassions as well but require reservations.
Of course you can always plan to pay using a taxi service or Uber/Lyft.